Scar Revision Los Angeles
What is Scar Revision?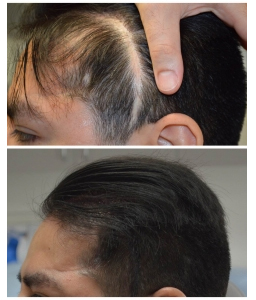 A scar revision is a procedure that helps to reduce the appearance of scars and improves the look of the scar and surrounding areas. It can enhance the look of unsightly scars made to the skin or scalp which typically result from FUSS hair transplant procedures, accidents, previous surgeries, and injuries. As skin heals over a wound, it may become hypertrophic and unsightly in nature. For certain patients with a history of FUSS hair transplants, or accidental injuries, this could be on a highly visible place such as the scalp.
How is scar revision done?
Scar revision is a corrective procedure while the patient is fully awake. Each scar brings a different type of corrective treatment to the table. For patients who have had the FUSS procedure, and are interested in concealing the look of the scar, they must first wait atleast 6 to 12 months.
The 2 most common methods of scar revisions are:
Follicular Unit Extraction aka FUE hair transplantation over the scar. FUE is the latest technology in the field of hair restoration, where hair follicles are removed individually without leaving an unsightly linear scar and transplanted into the scar.
Scalp Micropigmentation aka SMP is a non-surgical alternative where hair simulation is created over the unsightly scar using special pigments, and recreating the look of hair strokes.
Many patients can benefit from either options or a combination of FUE and SMP incorporated into their scar revision procedure.
Who benefits from scar revision?
Anyone who has had a follicular unit strip surgery aka FUSS hair transplant procedure and is bothered by the unsightly linear scar, or is limited on how short they are able to style or cut their hair due to the visibility of the hypertrophic scar, is a great candidate to consider a scar revision. Other patients such as burn or accident victims can also benefit from the use of FUE scar revision, SMP concealment or a combination of both.
Scar revision is also beneficial because the patient will feel better and more comfortable in their own skin without the reminder of the tumultuous accident or surgery.
Why doesn't hair grow on linear scars?
The reason why hair doesn't grow on scar tissue isn't because of the scar itself but because of the damage that's been done to the hair follicles beneath the skin. If a scalp injury is deep enough, it not only affects the skin but also the hair follicles beneath it. Once a hair follicle has been destroyed, it can't grow new hair. 
This is why many linear scars are raised and smooth. If you see a patch of hair or feel a fuzzy texture over your linear scar, your hair follicles are still alive in that area and will continue to grow hair as your injury heals.
Why is scar-related hair loss an issue?
Those who have small linear scars may not need scar revisions. This is because the hair loss is small enough that it isn't noticeable and can be easily covered up with the rest of your hairstyle. But when you have a large linear scar, the loss of hair in that area can make styling your hair difficult. Scar revisions can help restore your hair to its former glory so you can wear your hair the way you want.
Why choose our clinic for scar revisions?
Your hair is a major part of your identity, and it can be heartbreaking when a hair restoration doesn't go how you planned. That's why it's so important to use a clinic for scar revision Los Angeles residents trust: LA FUE Hair Clinic. 
LA FUE Hair Clinic has the experience and expertise you need to feel confident that your hair is in the right hands. We'll find the best possible solution for your hair loss and ensure your scar revision is natural-looking and chic. When you choose to work with us, you'll never have to feel insecure about your hair again.
If you are looking for a scar revision Los Angeles patients can trust, you can be sure that we have you covered. LA FUE Hair Clinic has specialists who have worked in the field of hair restoration and scar revision in Los Angeles for 10 years. We are committed to helping you look and feel like your best self! Let us help you today, call for your free consultation.