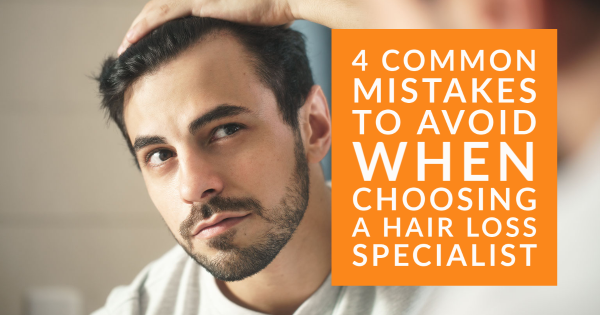 Hair loss is a fairly sensitive subject for individuals suffering from the condition. By the age of thirty-five, approximately 66% of American men have some degree of hair loss. For many, it causes a great degree of worry, stress, and mental anguish. 47% of the patients say they are willing to spend their life savings to regain their full hair.
Fortunately, there are several corrective procedures available such as FUE transplants and scalp micro-pigmentation. However, you may need to find the right hair loss specialist in Los Angeles to carry out the hair restoration. Considering the devastating psychological impact of hair loss, it is quite easy to make mistakes when selecting specialists to correct the condition.
Here are four common mistakes that you may need to look out for as you search for a hair transplant specialist in Los Angeles.
1. Skimping on Your Research on the Hair Loss Specialist
The anxiety and stress from your thinning hair may cloud your judgment as you consider restorative procedures. One common pitfall that patients make is failing to conduct a background check on the surgeon. Check out the credentials of the hair loss specialist in Los Angeles. FUT, FUE, and micro-pigmentation procedures require specialized training, over and above their dermatology degree. Are they a member of any professional organization? Conducting your due diligence can prevent you from walking out unsatisfied.
2. Failing to Verify Their Hospital or Clinic Affiliation
Most hair loss specialists have ties to specific clinics or hospitals that they carry out their surgeries. You may need to confirm the FUE clinic has the latest equipment and instrumentation to carry out the corrective procedure. The devices used may vary depending on the technique that the surgeon with uses. For proprietary devices, request the hair loss specialist to provide research-backed evidence on their efficiency in correcting hair loss.
3. Not Checking Outcomes from Other Patients
Excellent surgeons often provide before and after photos of previous corrective procedures that they carried out in the past. You may need to verify the authenticity of the portfolio pictures provided. You may request the hair clinic for a reference to one of their patients, especially one with the same hair profile, color, and thinning pattern. If possible, meet them in person and find out what their experience was like. You also get to inspect the outcome of the FUE transplant.
4. Focusing Solely on Costs
The hair transplant surgery may not be inexpensive. While the FUE and scar micro-pigmentation procedures are standard across the industry, the final costs may vary from one clinic to another. You may be tempted to move for a cheaper hair loss specialist in Los Angeles. However, it may not be the ideal choice for you. The surgical procedure will affect how you look for the rest of your life. It may not be wise to go under the knife of an incompetent surgeon while looking for cheap services.
FUE transplants and skin micro-pigmentation procedures can transform your life by helping you regain your full hair. You may need to be careful as you choose the Los Angeles hair loss specialist that will carry out your surgery.